Introduction
This is the user guide for Talos Rowing. The latest version of this document is available here.
Talos Rowing is an Android application for ​Rowing. An Android device installed with Talos and attached to your boat will monitor your stroke rate and boat speed.
Talos UI showing 3 graphs: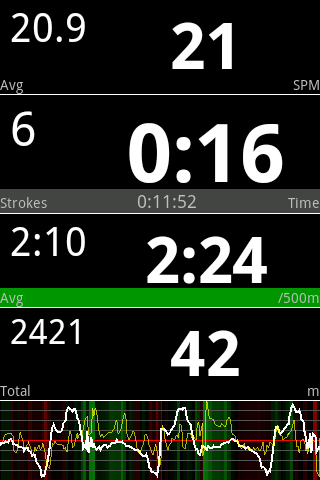 Features
application UI presents the following visuals to the user:
Stroke rate
Speed
Distance
Elapsed time
Split time

auto/manual start/stop
accumulated/reset values
aggregated values:

avg speed
avg stroke rate
stroke count

View remote device
Graphs/Views:

Current/Stroke/Recovery roll bar graph
Stroke power bar graph
Current stroke zoom graph
Stroke analysis graph
Continuous stroke graph
Device compatibility
Any Android device with accelerometer/orientation and GPS sensors, running Android 1.6 or later may be used. The application has only been tested on the Nexus One, though.
Limitations
Talos Rowing performance and precision may depend on the strength and specs of the Android device it runs on. In addition, some of the graphs/views may not be viewable during an outdoors rowing session, unless the device has an exceptionally bright/large screen.